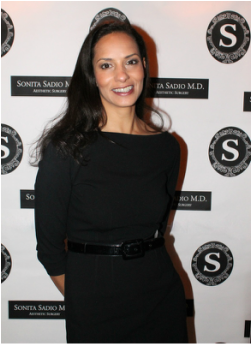 An accomplished aesthetic plastic surgeon, Dr. Sonita Sadio nevertheless believes surgery should be the last, not the first option for those who want to look their best. Her practice philosophy centers on the sophisticated use of minimally invasive techniques to achieve the natural-looking results patients want. Her surgical understanding of facial anatomy and aesthetic sense enable her to know what makes men handsome and women stunning.

A decade of advanced medical training at some of the world's best hospitals ensure world-class care, but with a personal touch. Dr. Sadio completed her surgical training at Harvard University (Massachusetts General Hospital) and the Mayo Clinic before winning a coveted fellowship in Aesthetic Surgery at the New York Eye and Ear Infirmary. She was an Alpha Omega Alpha honors graduate of Georgetown University School of Medicine. She completed her undergraduate studies at Yale College.

Dr. Sadio will work with you as a partner and collaborator to explore what you really want. She works at your pace. She offers mastery of an arsenal of non-invasive techniques including botox and dysport; restylane and juvederm; sculptra, and advanced laser resurfacing therapies. Her common-sense approach is popular with clients who want to achieve natural results with minimal downtime, no scars, and no one the wiser!

If surgery is needed, clients get world-class care from a practiced surgeon who intimately understands their priorities, such as putting family and career first. She individualizes solutions to your specific needs.

Dr. Sadio keeps an apartment in the West Village of Manhattan. She incorporates art and aesthetics in every part of her life. Her hobbies include interior design, antiques, and Argentine tango. As the daughter of a minister, she exudes warmth, trust and patience, making sure to take her time to provide the best for her patients. She has conducted mission work abroad, performing reconstructive surgery to repair cleft lip deformities in children living in Peru.

Dr. Sadio is excited to be practicing in New York City, the world mecca of medical aesthetics. She will use her decades of training and study to help you present to the outside world that same youthful, vibrant person you know yourself to be on the inside. Her artistry will help you maintain your most important asset: You!



---